Context & objectives
GV GrooVe! is Grand Valley State University's premier co-ed a cappella group. When they came to me, GrooVe! understood that their old, Tumblr-based website looked unprofessional and wasn't descriptive of the group's personality. It also placed little emphasis on where their digital presence was already shining: their active social media accounts. They were ready for a new website that fits their personality, was easy to maintain, pushed their social media accounts, and helped them get more requests to perform.
The process
I worked with GrooVe!'s Social Media Manager to do a content audit of the group's previous website. We were able to determine what needed to stay and what needed to go. We then created a content strategy plan that would help us achieve our goals for the new website. This included determining a content hierarchy. To do this, we defined our audience. We had to ask the question, "Who do we think is visiting our website, and why?". We came up with three main user groups to focus on: Event coordinators looking to book the group, students interested in auditioning for the group, and fans of the group who want to stay updated.
With an understanding of who and why people would be visiting the website, I was able to cater the redesign towards these specific people.
To convey GrooVe!'s wacky and exciting personality, I used an electric blue paired with a cool yet bright green accent color throughout the site. I experimented with video and motion to captivate and add energy. GrooVe! wanted to keep using their existing logo on the website, but we agreed that the group could benefit from a professional-looking seal that would be used informally throughout the site and brand materials. The seal I created references the year the group was created, giving the group an authentic and historical appearance.
A GrooVy Solution
The website I designed mirrored the group's wacky and energetic personality using bright colors, purposeful motion, and large, fun typography. I developed the website using the Wordpress platform, which helped make sure that the new site would be easy to update and maintain by the Social Media Manager.
"Nick made it simple and easy to refine our ideas into attainable goals for our new site, and transformed it into something that felt both relatable and professional. We especially love the emphasis on social media, it's a wonderful presentation of our group's personality on the site."

Mary Kate Murnen, Social Media Manager
By utilizing the homepage to cater to the three main user groups that we defined, we were able to reach and exceed our goals. We put the booking request form front and center on the homepage and gave it a place on the website's main navigation. We used thoughtful and purposeful copywriting to convey that the group is interested in hearing about any and all events, big or small.
The main call to action button on the homepage invites the user to read more about the group and get audition information.
The homepage invites fans into our Twitter and Instagram accounts as well as shows a feed of recent announcements.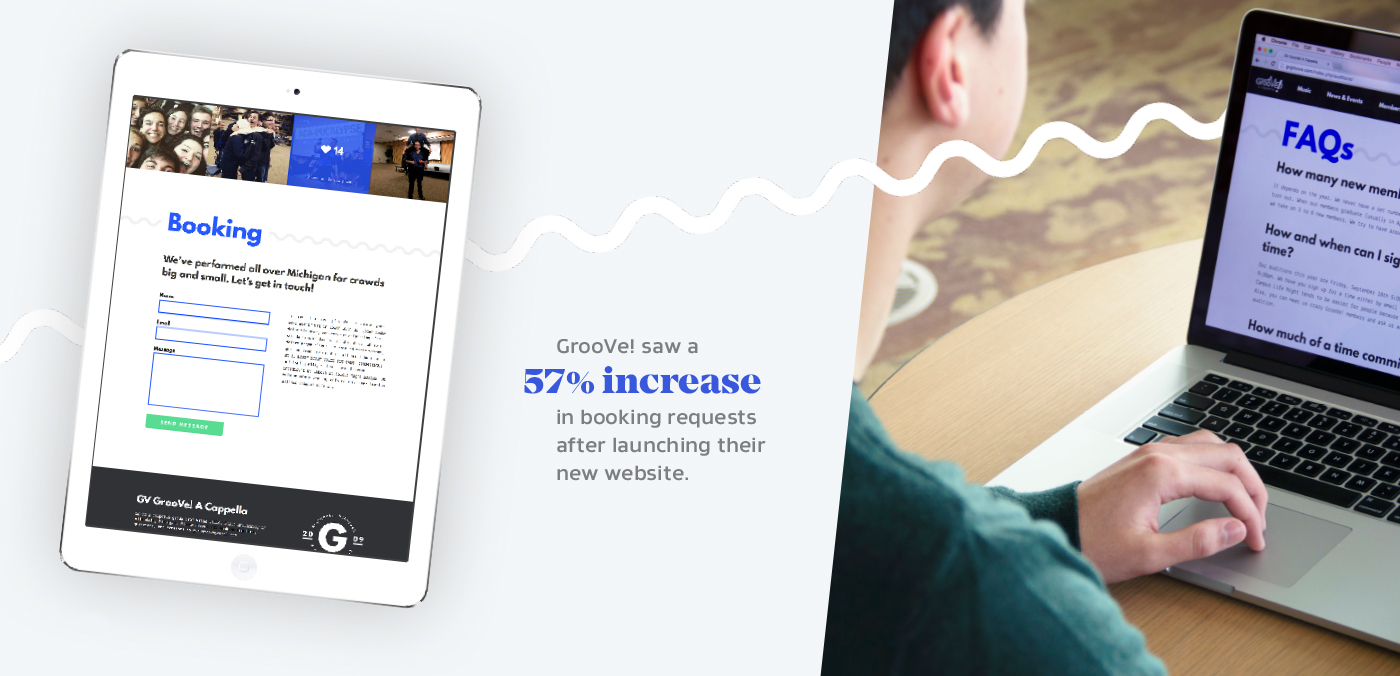 Results to sing about
As a result of the new, easy to use booking form on the website, GrooVe! received 57% more booking requests compared to the previous year. ∎
"After the launch of the new website and the addition of the booking form, we started receiving significantly more requests than ever before. We were able to finish the year with more gig opportunities than the last two years combined."

Joshua Sackleh, Business Manager